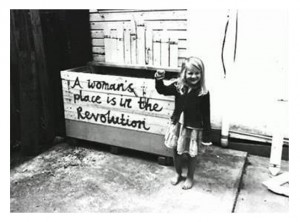 WHEN: 7pm, Thursday, July 3
WHERE: MAC, 62 St Georges Road, Northcote
A discussion evening to create a community among radical and leftist women. Leftist circles can be uninviting or even hostile to feminist and feminist sympathetic women. This event aims to create a dialogue with the intention of fixing these problems. As an oppressed class, women's struggle is a fundamental aspect of the all-encompassing class struggle, and to create a strong movement leftist groups must give respect and visibility to women.
Topics may include, depending on contributions from those attending;
-Experiences with gender politics in the left
-Anarcha-feminism
-Dealing with sexual assault in radical and leftist communities
-LGBTIA issues in the context of radical politics
-Organising future workshops and events
The event will be WOMEN ONLY as encouraged by the custodians of the space. This is to create a safe and inviting atmosphere for women who may have felt uncomfortable entering political spaces dominated by men. Please be respectful of this policy as it is fundamental in ensuring the comfort of all attendees.
If you want to make a short presentation, introduce a topic for discussion, play music, present poetry or any other relevant contribution, please let an admin know! We want to create a diverse, dynamic event and for everyone's voices to be heard. This event is about providing a platform for women and educating each other!
There will be an encouraged donation at the door of a gold coin or whatever amount people feel like donating. All donations go towards the cost of the space's upkeep. Some drinks will be available for gold coin donation. There are facilities to prepare food if anyone would like to volunteer to do that! The space also has a lot of great resources that will be distributed. If you have a zine or other publication that you would like to sell or give away on the night let us know!
Any questions, please don't hesitate to ask.
On Facebook : A Woman's Place is in the Revolution- Discussing Feminist Visibility in Radical Politics