JOINT STATEMENT BY MAC AND ASF-M REGARDING SEXUAL ASSAULT WITHIN THE ANARCHIST MILIEU IN MELBOURNE
Since 2010, the question of how an anarchist group can respond effectively and fairly to sexual misconduct by men against women has been the subject of debate and action by the MAC and the Anarcho-Syndicalist Federation Melbourne.
By sexual misconduct we mean the spectrum of conduct from low level sexual harassment through to opportunistic or predatory sexual behaviour.
This misconduct is a fundamental challenge and threat to our anarchist goals of a free and equal society. In the absence of an effective anarchist justice system we are ill-equipped to respond.
For this reason, we want to put on the public record our support for the right of women to choose the appropriate avenue for redress when wrongs are committed against them. This includes the criminal justice system.
An injury to one is an injury to all. Our anarchist community must develop its sophistication in making that axiom real for women who suffer injury from men.
Endorsed at the 27 October meeting of the MAC
Subsequently endorsed at the assembly of the ASF Melbourne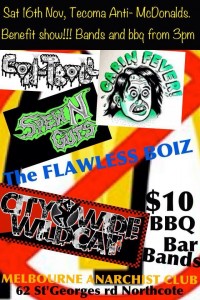 On Saturday, November 16 from 3pm MAC will be hosting a benefit gig and BBQ for the Tecoma 8 -- 8 people being dragged through the courts for daring to challenge McDonald's corporation in their attempts to colonise the Dandenong Ranges.
The gig will feature music from seven bands -- including Cabin Fever, Citywide Wildcat, Con-Troll, Flawless Boiz and Spew'N'Guts -- and a BBQ. Entry is $10 with all proceeds going to the campaign in defence of the Tecoma 8.
The MAC is located at 62 St Georges Road in Northcote.
The next meeting of the Fantin Reading Group is on Sunday, October 20 at 1.30pm. The reading for the meeting is an essay by Cornelius Castoriadis titled 'Recommencing the Revolution'. All welcome. For more details see the Fantin Reading Group blog.