3-5pm, Sunday 31st of July.
Victoria's police state is thriving. Ted Baillieu's new 'Public Order Response Team'. New knife laws that allow police to search people in 'designated areas' without reasonable suspicion that any crime has been committed. Police brutality at a Maribrynong refugee protest. The arrest of 19 protesters at a BDS demonstration. Plus, police now have automatic weapons. Hooray!
Come to the Melbourne Anarchist Club to discuss these new developments and how we can defend our right to protest. All welcome!
Readings (optional) will be posted on the Fantin blog closer to the date.
10am-6pm, Saturday 13th of August
"The Melbourne Anarchist Bookfair will be a free event held at Abbotsford Convent from 10am-6pm on Saturday 13th August, 2011. The bookfair will consist of up to 30 stalls of anarchist and activist groups and independent book-sellers. Alongside the stalls there will be about 16 one-hour workshops running all day on all kinds of anarchist and direct action topics. There will also be a small kids' space if carers want to self-organise child minding or the kids just want to play indoors."  For more info see: http://amelbournebookfair.org/
MAC will be having a stall at the upcoming Anarchist Bookfair. Some members will also be speaking at workshops about anarchism.
Workshops at the Bookfair will include: introduction to anarchism, anarcho-syndicalism, anarcho-feminism, direct democracy and federalism, organising anarchist community spaces, anarchy and violence, grassroots journalism, gender spectrum/queer, leaderless revolutions, free range kids.
The organising group is also planning a 'Camp Anarchy' to take place in March 2012 at Camp Eureka.
Sunday August 7: 12:00pm meeting, 1pm poster run.
Some members of MAC have come together to form a working group around spreading anarchist propaganda in Melbourne. We want to spread radical ideas in artistic and creative ways: posters, art, stickers, publications distribution, and anything else you can think of. All those interested welcome to attend.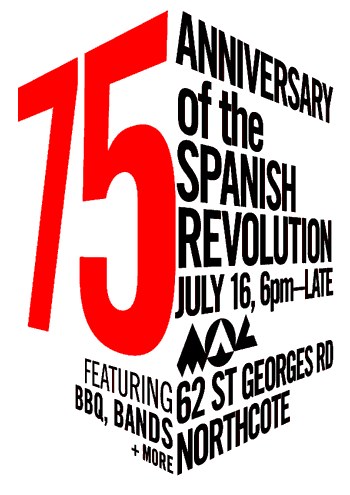 3pm Saturday 16th of July
The Spanish Revolution was the closest the world has ever come to an anarchist inspired revolution.
We will be marking this historic event with a BBQ, games, bands and a short discussion about how we can apply the ideas of the Spanish anarchists today.
There will also be a piñata.
Download the poster (PDF, 70kb).