We have some new books at the infoshop. Title, author and price below. MAC is open to the public every Sunday from midday to 5pm.
All Power to the Councils! A Documentary History of the German Revolution of 1918–1919 (Gabriel Kuhn) $27
Anarchism and the City: Revolution and Counter-revolution in Barcelona, 1898–1937 (Chris Ealham) $20
Anarchist Organisation: History of the FAI (Juan Gomez Casas) $20
Anarchist Seeds Beneath the Snow: Left-Libertarian Thought and British Writers from William Morris to Colin Ward (David Goodway) $25
Anarcho-syndicalism: Theory and Practice (Rudolf Rocker) $15
Decolonizing Anarchism: An Antiauthoritarian History of India's Liberation Struggle (Maia Ramnath) $16
Fire and Flames: A History of the German Autonomist Movement (Geronimo) $20
Free Comrades: Anarchism and Homosexuality in the United States (Terrence Kissack) $20
Free Women Of Spain: Anarchism And The Struggle For The Emancipation Of Women (Martha Ackelsberg) $20
Imperiled Life: Revolution Against Climate Catastrophe (Javier Sethness-Castro) $12
No Gods, No Masters (Daniel Guerin) $25
Post-Scarcity Anarchism (Murray Bookchin) $20
Public Power In The Age Of Empire (Arundhati Roy) $5
The Accumulation of Freedom: Writings on Anarchist Economics (Deric Shannon (Editor); Anthony J. Nocella II (Editor); John Asimakopoulous (Editor)) $21
The Child in the City (Colin Ward) $18
The Right to be Lazy: Essays by Paul LaFargue $16
The Russian Anarchists (Paul Avrich) $20
The Unknown Revolution (Voline) $20
Under Three Flags: Anarchism And The Anti-Colonial Imagination (Benedict Anderson) $20
What is Anarchism? (Alexander Berkman) $15
Why Are Faggots So Afraid of Faggots? Flaming Challenges to Masculinity, Objectification, and the Desire to Conform (Mattilda Bernstein Sycamore) $20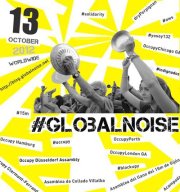 The Direct Action Collective is hosting an afterparty at MAC after the day of Global Noise, which is a celebration of the anniversary of the Global Occupy and European Indignado movements.
https://www.facebook.com/events/374117852665337/
The Melbourne event is being co-ordinated by Real Democracy Australia and the day of protest will adopt the 'casserolada' technique of banging pots & pans. The Direct Action Collective will meet @ the 8 Hour Monument from 11am and march to City Square, so join us with your black flags, black & red flags and pots & pans.
Back @ MAC we will be having a BBQ and of course, rehreshments will be available from the bar. There may also be spontaneous performances by poets, comedians & musicians...