This Sunday, November 19 at 5pm:
Did the events of October 1917 in Russia realise the dream of communism or was it simply a transfer of power from one government to another by other means?
Come to a presentation given by Owen Gager, one-time founding member of the Spartacist League in Australia about the events in Russia in 1917 with a particular emphasis from February to October.
Hear Owen Gager explain the betrayal of the Russian workers by the Bolshevik Party as the revelation of their real aim; the capture of State power. If you've ever wondered how the Dictatorship of the Proletariat became the Dictatorship of the Party became the Dictatorship of the Dictator? You'll wonder no more after listening to this informative and insightful presentation.
Light refreshments will be available.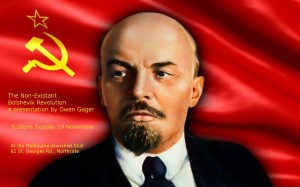 In July Weirding Cinema began screening films at MAC.
The next session is this Thursday, November 16: Why did the K Foundation burn a million quid?
Doors at 7pm for a 7:30pm start.
Admission is free. Sheep are welcome. Ice cream van parking available. Mu be with you.