Coming up in May...
May Day (Tuesday, May 1)
On May Day, the day of the international workers' movement, MAC members will be attending the 8 hour monument at 12 midday (cnr Victoria & Lygon Sts, opposite Trades Hall), along with members of the Anarcho-Syndicalist Federation, and more. Bring along your red and black flags!
Friday, May 4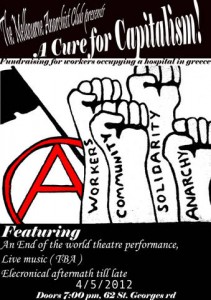 Fundraiser for Greek Resistance
Featuring a performance by our resident theatre troupe, we will be raising money for medical supplies for a hospital in Kilkis, Greece that has been under workers' control since February 20.
Come one, come all, it's the perfect May Day fundraiser!
Saturday, May 5
The Workers' Solidarity Network have organised an action to show the fat cat bankers 'You Can't Haz Our Weekend' outside the Commonwealth Bank (cnr Bourke & Elizabeth Sts, CBD). For more details see the WSN website.
Sunday, May 6
Our reading group is up to Chapter VIII, Militant Minority: The Question of Anarchist Political Organisation of the book we are reading, Black Flame. As usual the reading is available online here.
Head on over to anarchy.org.au to see MAC's new project, collating news and items of interest.