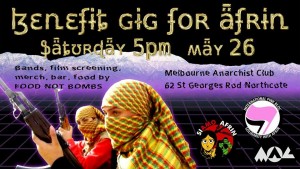 We've partnered with Pink Bloc - Narrm / Melbourne and Post-romantic queerwave to raise money in support of Si Amo Afrin (We Are Afrin).
All proceeds from selling merchandise and donations at the door will go towards this grassroots campaign to gather global funds for urgent humanitarian aid for refugees from Afrin who have been displaced by Turkey's invasion and attack on the Rojava revolution.
Almost half a million residents have been displaced, many have been kidnapped, tortured & murdered by the various fascist proxy armies of Turkey. Medical aid is urgently needed, as is water, food and shelter.
There is nothing about the revolution in Rojava that Turkey or any other nation-state wants to see succeed and for that the people there will face further persecution. We stand in solidarity with these families displaced by war and those who would challenge oppression.
If you can't make it on the night, you can still support the fundraiser by purchasing merch here OR by donating directly to the Si Amo Afrin campaign here.
Catering provided by Food Not Bombs -- available by donation.
*Please note, this venue has ramps but no wheelchair accessible toilets.
**Starting the night early from 5pm, we'll be showing a documentary on Rojava before a feed and a night of talented musicians.
The bands in approximate order of appearance:
• Global Intifada
• Ethel Higgenbaum
• Nick Carson
• PALA
• Dead Peasants
• Jude Joseph
• Lunar Flares
• Glitter Rats
• Wild Spears
FOR MORE DETAILS, PLEASE SEE THE FACEBOOK EVENT PAGE HERE.