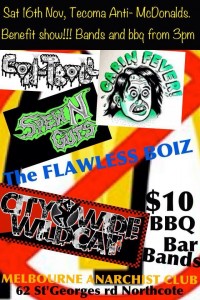 On Saturday, November 16 from 3pm MAC will be hosting a benefit gig and BBQ for the Tecoma 8 -- 8 people being dragged through the courts for daring to challenge McDonald's corporation in their attempts to colonise the Dandenong Ranges.
The gig will feature music from seven bands -- including Cabin Fever, Citywide Wildcat, Con-Troll, Flawless Boiz and Spew'N'Guts -- and a BBQ. Entry is $10 with all proceeds going to the campaign in defence of the Tecoma 8.
The MAC is located at 62 St Georges Road in Northcote.