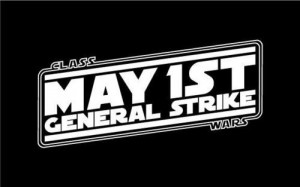 To celebrate May Day (aka International Workers Day) this year we will be doing a few things:
1) The Direct Action Collective (i.e the activist arm of both the MAC and the Anarcho-Syndicalist Federation- Melbourne) will be attending the May Day demo @ the 8 Hour Monument from 12pm, on Wednesday 1st May.
Anyone interested in attending a May Day planning meeting is welcome to come along this coming Saturday 27th April at 3pm @ MAC. We will also be having a banner/poster making session afterwards. BYO paint, brushes and materials.
2) May Day Celebratory BBQ @ MAC, Sunday 5th May from 4pm.
We are holding the BBQ after the Trades Hall Council May Day Rally, (which is held at the bosses' convenience) on Sunday at 1pm. The DAC will be participating in both marches.
Come join us at MAC to celebrate May Day with food, drinks, and music from DJ Pete!
We will also be introducing our anti-election candidate: Nobody. Vote for Nobody!