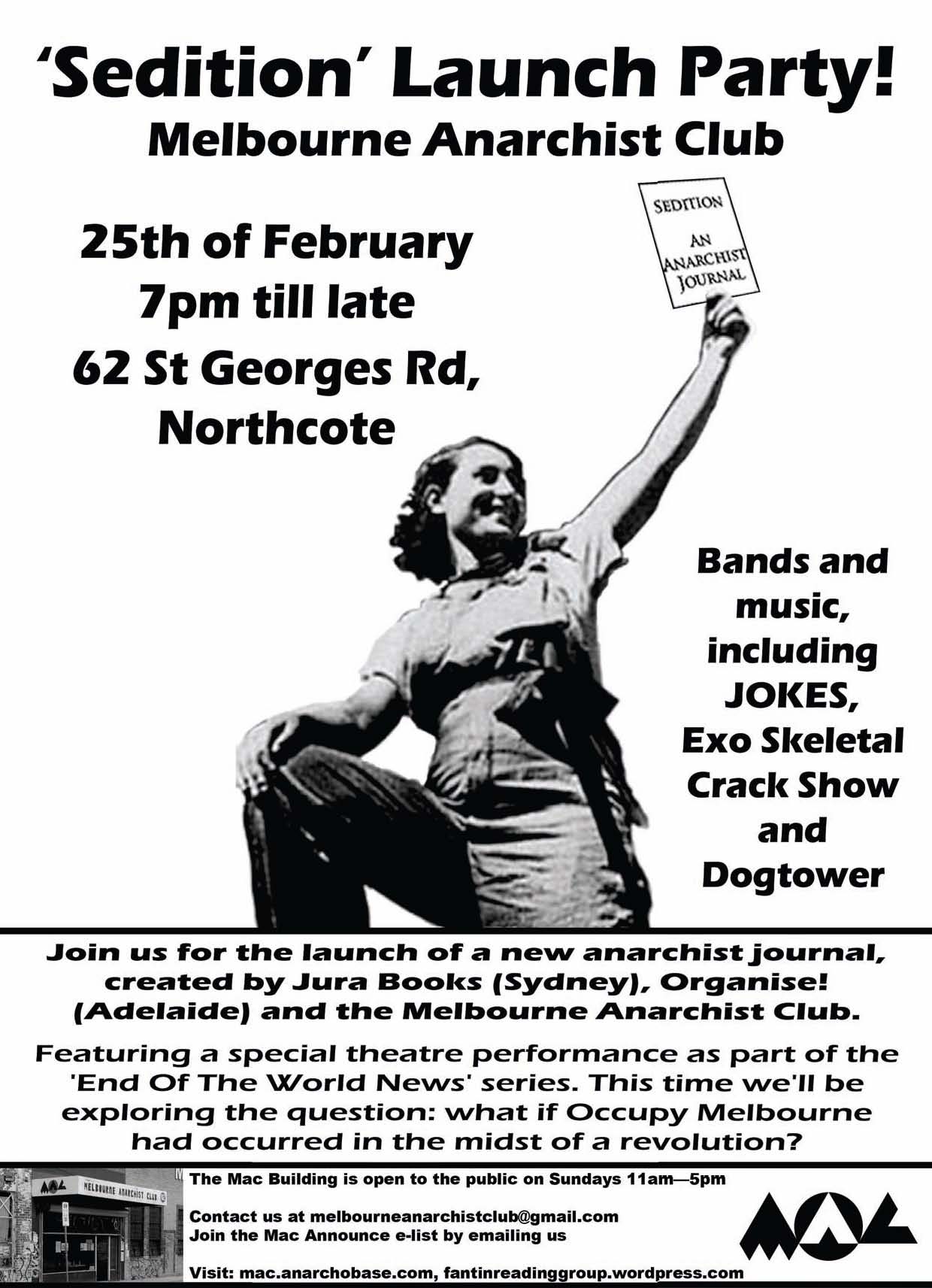 25 February, 7:00pm start @ Melbourne Anarchist Club: 62 St Georges Road Northcote.
It's time to (briefly) hang up our activist cloaks and channel some of our revolutionary fervour into celebrating our exciting new collaborative anarchist publication - Sedition.
As well as sparkly new copies of Sedition and the standard excellent company, we'll have bands and a special theatre performance as part of the 'End Of The World News' series. This time we'll be exploring (in an interactive fashion) the question: what if Occupy Melbourne had occurred in the midst of a revolution?
About the publication:
Sedition is a mutual collaboration between three geographically disparate Australian anarchist collectives, the Melbourne Anarchist Club, the Jura collective from Sydney, and Organise—the Adelaide anarchist communist group. This project is a constructive medium for discussing the way forward for anarchist groups and anarchism in Australia, importantly—both in theory and praxis. We aim to establish better communication and organisational networks between our groups and to produce thought provoking literature that challenges the established order.
Some of the articles featured in our first edition will be:
- 'Casualisation & Flexible Work: How Far Can The Bosses' Push Before We Snap?'
- 'Complicity, Traitors, Compromise And Other Media Interactions'
- 'Intersectionality– Implications For Anarcha-Feminism'
- 'Importing Zapatismo: Mexican Revolutionary Ideas And Their Relevance In Australia'