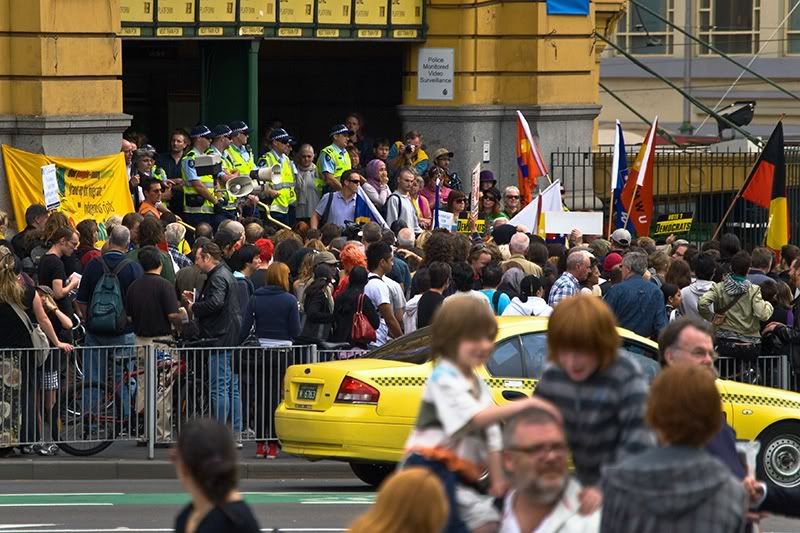 Last Friday there was a rally — an "anti-anti-immigration" rally as it was referred to by some — held to counter a proposed anti-immigration and anti-islam gathering that had been advertised on Facebook. The rally was well attended; unions, religious organisations and the usual suspects were there. A half-dozen bewildered racists were spotted at the nearby Young & Jackson's pub and, aside from a young fellow who looked like he might have been celebrating Hitler's birthday a little too early, they kept their distance.
Highlights included Nazeem Hussain from comedy group Fear of a Brown Planet giving the police a fair bit of stick for their own racist antics. Similarly, when the rally's MC implored the crowd to thank the police, it was met by some incredulity and impoliteness. You can see coverage from the media here. Slackbastard also covered this a bit on his blog.
The banner pictured below with "fuck bosses" on it wasn't done by us, but it's still pretty ace. The cops asked the banner-holders to take it down, which they did.
Meanwhile in Sydney on the following Sunday, the far right Australian Protectionist Party bravely held their own Nuremburg-lite out the front of the Villawood Detention Centre. Media reports are scarce, but apparently the racists were outnumbered, although the Sydney rally was more confrontational.
Unfortunately, the racists in Canberra also chose this weekend to announce that all applications by Afghanis and Sri Lankans for asylum will be suspended for six months and that this has absolutely nothing to do with an upcoming election.