Join us for a lively discussion with our special guest speaker Marta de LaPiluka, from La Piluka social centre in Barrio del Pilar, Madrid.
Marta participated in the 15M/Indignado occupation of La Puerta del Sol Plaza in 2011 and has recently returned from Spain where she witnessed events surrounding the occupation of the House of Deputies on September 25.
In addition to providing an update on the current social, political and economic situation in Spain, Marta will focus on police brutality, the criminalisation of dissent, and libertarian struggles for health, education, employment & housing.
http://www.youtube.com/watch?v=8gvDiiaJogY
WHEN : 2pm, Sunday, December 16th
WHERE : Melbourne Anarchist Club, 62 St Georges Rd, Northcote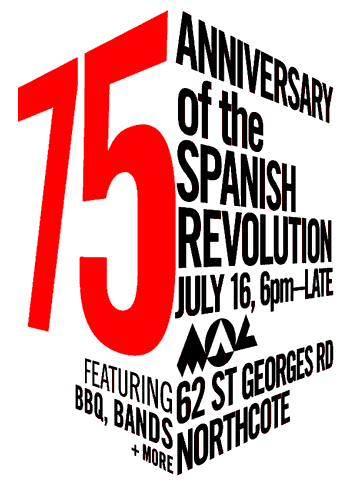 3pm Saturday 16th of July
The Spanish Revolution was the closest the world has ever come to an anarchist inspired revolution.
We will be marking this historic event with a BBQ, games, bands and a short discussion about how we can apply the ideas of the Spanish anarchists today.
There will also be a piņata.
Download the poster (PDF, 70kb).